5 SECRETS YOU NEED TO KNOW BEFORE
LAUNCHING YOUR BEAUTY BUSINESS
(THIS FREE TRAINING REVEALS HOW ANYONE CAN DO THIS)
ALWAYS WANTED TO LAUNCH YOUR BEAUTY
BRAND BUT NEVER KNEW WHERE TO START?
THEN THIS FREE TRAINING IS FOR YOU!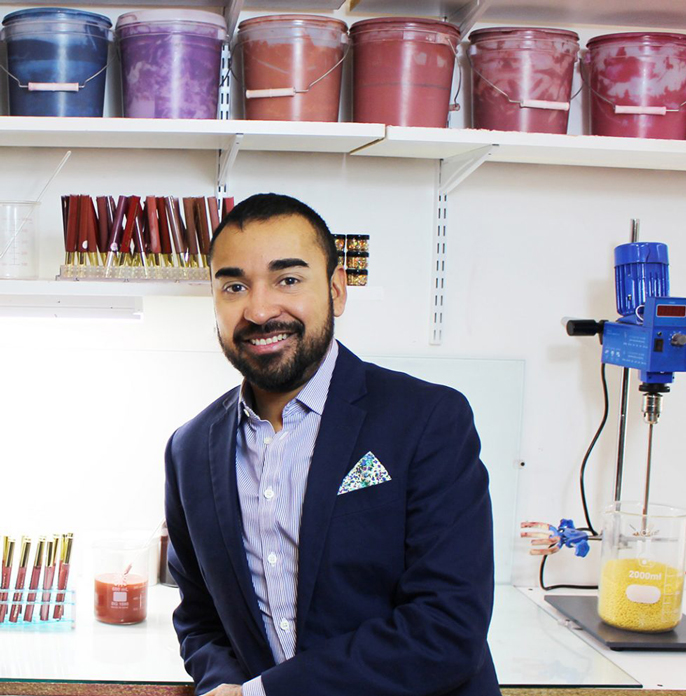 Your Instructor: Felipe Vasconcelos
TAUGHT BY
ECOMMERCE EXPERT,
My name is Felipe Vasconcelos, and I have helped thousands of aspiring and seasoned entrepreneurs start and grow their businesses throughout my career.
In my online training course, you will learn secrets and well-proven strategies through every step of growing your business.
There are no other courses out there like this one. So, whether you have owned a beauty brand for years or are just starting, I will guide and motivate you to transform your passion into action and desire into reality.
TAKE YOUR BEAUTY BRAND TO THE NEXT LEVEL TODAY!
Even if you have a great product, it doesn't mean people will buy it.
But in this free training, we'll teach you all the things you need to know before you launch your product.
Join us today, and you'll be able to grow your audience, generate expectations, increase your traffic, and create a packaging experience that delights your customer and makes them want to come back for more!
AN ACTIONABLE, STEP-BY-STEP PLAN
At no cost to you, turn your great ideas into reality, and start
creating your beauty empire today!
OTHERS HAVE BEEN WINNING BIG ON SOCIAL MEDIA.
Learn how to use influencers to create content.
Learn how to make influencers bring traffic to your website.
Learn how to collaborate with other brands for giveaways.
Understand your customer's lifestyle and make sure to create content that's relevant to your target market.
I had no idea course like this existed. If only I found out sooner! Felipe really takes the time to go through the training, so that you can feel confident in your work. Plus, I love being my own boss!


BEAUTY CAN BE THE GATEWAY TO INSPIRATION ON HOW WE START OUR DAY.
WHEN WE WAKE UP IN THE MORNING, THE FIRST THING WE MAY DO IN OUR DAILY ROUTINE IS GRAB SEVERAL BEAUTY PRODUCTS FROM BASIC BODY HYGIENE, HAIR CARE ROUTINE, SKINCARE, AND POSSIBLY, MAKEUP.
BECAUSE WHAT WE DO IN THE MORNING SETS THE TONE FOR THE REST OF THE DAY. IT'S THE IDEAL TIME TO CULTIVATE A HEALTHY RELATIONSHIP WITH YOURSELF BEFORE YOU HEAD OUT THE DOOR TO MANAGE REAL LIFE DUTIES.
IT'S AMAZING WHAT HAPPENS WHEN WE SET UP OUR DAILY ROUTINE AS A WAY TO CELEBRATE WHO WE ARE AND THE LIFE WE ARE LIVING. OUR HEALTH AND WELLNESS FIRST AND FOREMOST INVOLVES TAKING CARE OF OURSELVES AND PROVIDING OURSELVES WITH THE LOVE WE DESERVE.
BECAUSE LOVING WHO YOU ARE STARTS WITH YOU.
THE PRODUCTS YOU USE FROM TODAY'S MODERN BEAUTY INDUSTRY CAN BE USED TO REFLECT THAT ALL STEM FROM FEELING GOOD ON THE INSIDE.
SO, WHY NOT ROCK YOUR AWESOME ON THE OUTSIDE AS WELL?
WITH THIS ATTITUDE, PEOPLE WANT PRODUCTS THAT MAKE THEM FEEL AND LOOK THEIR BEST. THEY WANT PRODUCTS THAT START THEIR DAY OFF RIGHT.
AND THAT'S WHERE THE BEAUTY INDUSTRY COMES IN.
NOBODY WANTS TO WAKE UP ON THE WRONG SIDE OF THE BED AND CONTINUE THAT TREND THROUGHOUT THEIR DAY. BAD DAYS SNOWBALL JUST AS MUCH AS GOOD DAYS, SO STARTING THE DAY OFF WITH SOLID BEAUTY PRODUCTS CAN BE THE THING THAT MAKES EVERYTHING FEEL BETTER. 
AS YOU CREATE YOUR BEAUTY BUSINESS, STEP INTO THE SHOES OF WHAT CREATES GOOD FEELINGS IN YOU FIRST. THEN YOU WILL BE ABLE TO FIND THE MARKETING SOLUTIONS AND BUSINESS STRATEGIES THAT DRAW IN CLIENTS FROM ALL WALKS OF LIFE.
BECAUSE GOOD FEELINGS ARE UNIVERSALLY UNDERSTOOD. IT DOESN'T MATTER WHO YOU ARE.
TAP INTO THAT MOJO, AND YOU WILL DISCOVER WHAT IS NECESSARY FOR A BEAUTY BUSINESS THAT BOTH LOOKS AND FEELS GOOD.
POSITIVE ASSOCIATIONS ARE EVERYTHING
WHEN PEOPLE FEEL GOOD FROM A PRODUCT, ESPECIALLY IF THAT PRODUCT GOES WITH THE CARE PRACTICES, THEY TEND TO HAVE A POSITIVE ASSOCIATION TO THE BUSINESS THAT THEY BOUGHT IT FROM, WHICH CREATES A POSITIVE BUYER EXPERIENCE. CLIENTS MIGHT EVEN POTENTIALLY LOOK THROUGH OTHER PRODUCTS YOU MAY OFFER IF THEY FIND ONE THEY PARTICULARLY LIKE.
IN ESSENCE, PEOPLE WILL CONTINUE TO BUY PRODUCTS THAT MAKE THEM FEEL AMAZING AND BEAUTIFUL IN THEIR SKIN.

PEOPLE OFTENTIMES WANT THEIR SIMPLE BUT HOLY GRAIL PRODUCTS AVAILABLE TO THEM AT ANY TIME. THEY WANT TO KNOW THAT THEIR LIPSTICK, BLUSH, OR EVEN SKIN SERUM WILL BE THERE FOR THEM WHEN THEY NEED IT THE MOST.
IF A SOMEONE KNOWS THAT THEY CAN RETURN TO THEIR FAVORITE PRODUCT OVER AND OVER AGAIN TO GET THE JOB DONE AND MAKE THEM FEEL THEIR BEST AT THE SAME TIME, THEY CAN CONQUER THEIR DAILY LIFE AND FEEL LIKE THEY ARE PREPARED FOR ANYTHING.
THEREFORE, YOU HAVE A POWERFUL ROLE IN THIS BEAUTY INDUSTRY. YOU HAVE A POWER TO CREATE SOMETHING THAT MAKES PEOPLE FEEL GOOD AS WELL AS LOOK GOOD.
AND THIS SHOULD DO THE SAME FOR YOU.
JUST LIKE REGULAR EXERCISE, A LONG-LASTING LIPSTICK WHICH STILL STAYS ON AFTER A NIGHT OUT, OR THE GO-TO, NATURAL SOLUTION FOR BB CREAM THAT PROVIDES THAT "GLOW-UP" AND REFRESHED LOOK AFTER A NIGHT OF NO SLEEP, IT'S HEALTHY TO HAVE THOSE PRODUCTS THAT NOT ONLY STAY ON TOP OF TRENDS, BUT THAT IS THE PRODUCT FOR WHAT IS NEEDED FOR ANY CIRCUMSTANCE.
YOUR JOB AS IN YOUR BEAUTY BRAND BUSINESS IS TO PROVIDE THAT FEELING THROUGH YOUR PRODUCT OPTIONS.
BRAND MESSAGING DESIGN FOR HEALTH AND HAPPINESS
BRAND MESSAGING IS DEFINITELY IMPORTANT, SO USE WORDING THAT BOTH EMPOWERS AND UPLIFTS WHEN CONSIDERING HOW TO MARKET YOUR PRODUCTS.
THINK ABOUT WHAT MAKES YOU FEEL GOOD, WHETHER THAT IS PRODUCTS THAT SET THE TONE FOR YOUR DAILY LIFE IN THE MORNING, OR PRODUCTS THAT HELP YOU UNWIND PEACEFULLY FROM A HECTIC DAY.
SHOW WHAT YOUR PRODUCT CAN DO TO MAKE CUSTOMERS FEEL GOOD IN THE PRODUCT DESCRIPTIONS, IN THE PRODUCT PICTURES, AND IN YOUR COLOR PALETTE AS WELL. EVERY TIME YOUR CUSTOMERS LOOK AT YOUR WEB PAGE AND SEE YOUR SKIN AND MAKEUP PRODUCTS BEING USED AND DESCRIBED FOR THE AVERAGE PERSON TO FEEL AND LOOK AMAZING, THEN CUSTOMERS CAN VISUALIZE THESE DAILY MAKEUP STAPLES IN THEIR DAILY LIFE
BECAUSE WHAT WE NEED TO RELATE TO AS BEAUTY BRANDS IS REAL LIFE.
REAL LIFE IS CHALLENGING. FROM TIME TO TIME, THERE ARE MOMENTS WHERE WE DON'T WANT TO COMPLETE A DAILY ROUTINE, LET ALONE FOLLOW ANY TREND. THE BODY FOLLOWS WHAT THE MIND WANTS…AND THE MIND FOLLOWS HOW THE BODY FEELS. IT'S A GIVE AND TAKE RELATIONSHIP THAT CAN GO IN CIRCLES IF NOT ADDRESSED.
WHETHER WE LIKE TO ADMIT IT OR NOT, HUMAN BEINGS ARE EMOTIONAL. LIFE IS AN EMOTIONAL WAVE THAT HITS YOU WHEN YOU LEAST EXPECT IT.
IN THESE MOMENTS, WHAT DO PEOPLE DO?
THEY FIND SOMETHING THAT MAKES THEM FEEL WHOLE AGAIN IN THEIR BODY.
TAILOR THOSE EMOTIONAL RESPONSES TO WHAT YOUR CLIENT POTENTIALLY NEEDS AND YOU WILL CREATE THOSE ESSENTIAL PRODUCTS THAT PEOPLE WANT AND NEED.
KEEPING THE BODY HEALTHY ALSO REQUIRES MAINTAINING A POSITIVE ATTITUDE.
WE CAN'T FAKE BEING HAPPY, ANYMORE THAN WE CAN FAKE WHO WE ARE OR OUR SKIN TONES.
WHILE STICKING TO YOUR BRAND MESSAGING IS IMPORTANT TRY TO ALSO IMPLEMENT WAYS THAT INCORPORATE POSITIVE MESSAGING. PERSONAL PRESENTATION IS KEY TO A THRIVING BEAUTY BUSINESS. IF PEOPLE CAN PERSONALLY RELATE TO YOUR PRODUCTS YOU ARE CREATING AN ESSENTIAL MARKETPLACE FOR THOSE CUSTOMERS. BEING ESSENTIAL IS EVERYTHING WHEN IT COMES TO A FLOURISHING BUSINESS WITH A LOYAL CUSTOMER BASE. 
BE RELATABLE IN BEAUTY AND IN BODY
RELATABILITY CANNOT BE OVERLOOKED IN ANY INDUSTRY. THE BEAUTY INDUSTRY, ESPECIALLY THE MODERN BEAUTY INDUSTRY, ESSENTIALLY STEMS FROM ITS ABILITY TO BE RELATABLE WHILE ALSO PUSHING FUN FASHION TRENDS. CERTAIN MAKEUP LOOKS CAN DRIVE CUSTOMERS THAT WANT A STANDARD BEAUTY LOOK THAT WORKS WITH THEIR TO ACHIEVE A SIMILAR LOOK WHILE STILL MAINTAINING THEIR OWN INDIVIDUALITY.
PEOPLE WANT TO FEEL LIKE THEY CAN DESIGN A LIFE WORTH LIVING…AND BEAUTY THROUGH MAKEUP, SKINCARE, AND HAIR CARE IS A BEAUTIFUL RESPONSIBILITY TO BEHOLD WHEN ESTABLISHING YOUR BEAUTY LINE.
SHOWCASE HOW PRODUCTS CAN DO JUST THAT. HAVE YOUR UP-AND-COMING DESIGN INSPIRATIONS SHOW NOT TELL IS A REALLY GOOD MINDSET TO GET INTO. PEOPLE LOVE TO SEE THE RESULTS OF PRODUCTS, SO FIND WAYS TO SHOW WHAT A PRODUCT CAN DO.
WHY DO YOU THINK SO MANY INFLUENCERS GIVE BODY CARE TIPS AND TAUT THE PURSUIT OF FITNESS WHILE PROMOTING CERTAIN PRODUCTS?
SOLICIT THE HELP OF INFLUENCERS, SHOW TUTORIALS, AND CREATE ADVERTISEMENTS THAT IMPLEMENT SEEING RESULTS THAT MAKE ANYONE PROFILE READY. THIS WILL HELP CREATE A BASIS OF VIEWERSHIP THAT ALSO GENERATES BUSINESS AT THE SAME TIME AND DISPLAYS HOW YOUR PRODUCTS ARE DESIGN FOR THE ULTIMATE BEAUTY ROUTINE.
POSITIVITY = HEALTH & WELLNESS
OF COURSE, YOU CAN'T PROVIDE THE SOLUTION FOR MILLIONS OF PEOPLE WHEN IT COMES TO FEELING GOOD AND STAYING HAPPY. BUT YOU CAN PROVIDE AN OUTLET TO EXPRESS POSITIVITY IN HOW PEOPLE PRESENT THEMSELVES TO OTHERS.
AS A BUSINESS OWNER IN THE MODERN BEAUTY INDUSTRY, KEEP IN MIND WHAT MAKES YOU FEEL AND LOOK GOOD. MOST PEOPLE PROBABLY WOULD NOT ARGUE WITH THE SENTIMENT OF THE OUTCOME OF POSITIVE FEELINGS. AND WHY NOT HAVE THESE POSITIVE FEELINGS COME FROM TAKING THE TIME TO KEEP THE BODY HEALTHY AND LOOKING GOOD.
TAKE CARE OF YOURSELF FIRST BEFORE TAKING CARE OF ANYTHING ELSE.
GET QUALITY SLEEP, ROCK YOUR HAIR GAME, YOUR SKIN PROTECTION ROUTINE, AND YOUR COLOR DESIGN CHOICES, AND YOUR BEAUTY BUSINESS WILL FOLLOW.
AFTER ALL, WHEN YOU HAVE POSITIVE FEELINGS, THINGS TEND TO FLOW BETTER THROUGHOUT YOUR LIFE. POSITIVITY CREATES MORE POSITIVITY WHICH CAN HELP LEAD TO MORE SUCCESS. WHEN YOU ARE IN A POSITIVE STATE YOU TEND TO CREATE MORE BENEFICIAL OUTCOMES.
AND IN THOSE MOMENTS YOU ARE FEELING DOWN?
BE KIND TO YOURSELF, AND GIVE YOURSELF GRACE.
PEOPLE WILL BE DRAWN TO THAT JOY AS IT EMANATES FROM EVERYTHING YOU DO, WHICH TRIGGERS THE "HALO EFFECT." WHEN PEOPLE LOOK AND FEEL GOOD THEY CREATE AN INNER CONFIDENCE THAT CANNOT BE DIMINISHED. IT SHINES THROUGH AND GOOD VIBES ARE UNKNOWINGLY CONTAGIOUS TO OTHERS.
BE YOUR OWN SOURCE FOR INSPIRATION. TO KNOW THAT YOU AS A BUSINESS OWNER HELPED TO CREATE SOMETHING THAT MAKES PEOPLE BOTH FEEL AND LOOK GOOD…
THAT'S GOT TO MAKE YOU FEEL GOOD TOO.
I've been wasting so much time trying to figure out how to launch my beauty brand business…but nothing seemed to help. When I ran across this course, I had everything I needed in just one place! Thanks, Felipe!
With this online course, you can take guessing out of it. All you need is here. Seriously. Take the course. It's the thing you need to not only get your started, but get you successful. 


SAVING GRACE DURING PANDEMIC
I lost my job during the pandemic, and had a crisis of what to do. I've always wanted to get into the beauty brand business, but didn't think it was possible. When I saw what this course offers, I decided to take a leap of faith and invest in myself and my dreams. I'm so glad I did! This course was the saving grace I needed during the pandemic. 
Learn what makes a beauty brand successful!